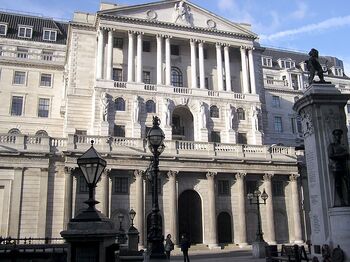 The
Bank of England
, formally the Governor and Company of the Bank of England, is the central bank of the United Kingdom and the model on which most modern central banks have been based. Established in 1694, it is the second oldest central bank in the world, after the Sveriges Riksbank, and the world's 8th oldest bank. It was established to act as the English Government's banker, and to this day it still acts as the banker for HM Government. The Bank was privately owned and operated from its foundation in 1694. It was nationalised in 1946.
The Bank's headquarters has been located in London's main financial district, the City of London , on Threadneedle Street, since 1734. It is sometimes known by the metonym The Old Lady of Threadneedle Street or simply The Old Lady, a name taken from the legend of Sarah Whitehead, whose ghost is said to haunt the bank's garden. The busy road junction outside is known as Bank junction.
More information on the Wikipedia page [1].
The website is [2].
Community content is available under
CC-BY-SA
unless otherwise noted.