BRIDGE
Albert Bridge
Carries
Motor Vehicles
Maintained by
Design
Suspension
Total Length
Clearance Below
Opening Date
31 December 1872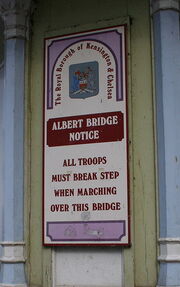 The Albert Bridge is a road bridge spanning the River Thames between Chelsea and Battersea in London, England, named in memory of Prince Albert of Saxe-Coburg-Gotha, Prince Consort to Queen Victoria.
Although authorised by an Act of Parliament in 1864, construction was delayed by work on the Chelsea Embankment and did not begin until 1870. The bridge opened first on 31 December 1872, but closed again shortly after, to re-open on 23 August 1873. The designer was Rowland Mason Ordish, who conceived a rigid suspension bridge with a length of 710 feet (216.4 m), width of 41 feet (12.5 m) and a centre span of 400 feet (121.9 m). Its construction cost about £90,000.
The Albert Bridge Company also owned the adjacent Battersea Bridge, but neither bridge generated sufficient toll income to cover their maintenance costs. In 1878 both were bought by the Metropolitan Board of Works, and they ceased to be toll bridges the following year.
In 1884 Sir Joseph Bazalgette strengthened and modernised Albert Bridge, rendering it more like a conventional cable-stayed bridge.
The bridge came close to being replaced after the Second World War, but a concerted campaign led by, among others, Sir John Betjeman led to its conservation. In the 1970s, central supports were added by the Greater London Council to save the structure from collapse. Weight restrictions have been in place since Bazalgette's time, as have notices requiring soldiers (such as those from nearby Chelsea Barracks) to break step when marching over the bridge for fear that mechanical resonance or other effects might damage the structure.
The bridge was given protection as a Grade II* listed structure in 1975.
The bridge featured prominently in the 1998 film Sliding Doors, starring Gwyneth Paltrow and John Hannah.
"Misty Morning, Albert Bridge" is a 1989 single by the British-Irish folk rock band The Pogues.
In the novel Scorpia, MI6 and the fictional organisation Scorpia exchange hostages on Albert Bridge
Community content is available under
CC-BY-SA
unless otherwise noted.