herThe Battersea Polytechnic Institute was a higher education institution which was the forerunner of the modern University of Surrey.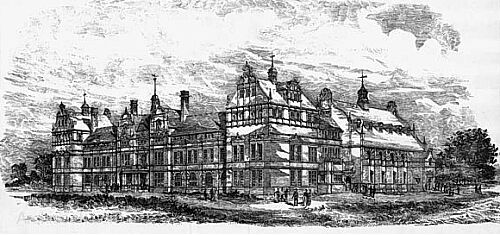 The institute was founded in 1891, admitting its first students in 1894, aimimg to provide access to further and higher education for "poorer inhabitants" of London. Specialising in science and technology subjects, in later years courses validated by the University of London were taught.
Located in Battersea Park Road, the institute was built on the site of the Albert Palace . The architect was Edward William Mountford, designer of Battersea Library and Battersea Town Hall.
In 1956 the institute was awarded the status of "college of advanced technology" and in 1957 was renamed Battersea College of Technology.
By 1962 the college had outgrown its Battersea site, and it was decided to move from Inner London to a greenfield site in Guildford, Surrey. In 1963 a government report recommended that the colleges of advanced technology become technological universities with degree-awarding powers.
Accordingly the college was granted a charter as the University of Surrey in September 1966. The move to Guildford was completed in 1970.
The buildings in Battersea were taken over by Westminster Kingsway College and has now been redeveloped as Kingsway Square, a housing development.
A University of Surrey article here, the Historic England page is [1]. The Wikipedia page on the University of Surrey, giving some details of the Battersea institutes is [2]. Grace's Guide page here
Details of the archives here