The Notting Hill Coronet is a cinema, originally built as a theatre, in Notting Hill Gate in London.
In June 2014, it was announced that the Coronet had been acquired by nearby fringe theatre The Print Room, which planned to make it its new home.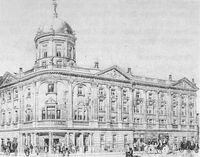 The Coronet was designed as a theatre by leading architect W. G. R. Sprague at a cost of £25,000 and opened in 1898. Famous actors who appeared at the theatre in its early days included Ellen Terry and Sarah Bernhardt. It suffered, however, from being outside the traditional London theatrical district of the West End, whilst being sufficiently close to that district (unlike other provincial theatres) to find itself in competition with it.
In 1916, films were shown at the theatre for the first time, as part of variety programmes mixing live and filmed performance.
In 1923, it became a cinema full time, and capacity was reduced from 1,143 to 1,010 seats, but it retained, as it still does, its original theatre interior, consisting of stalls and two upper tiers (a dress circle and a gallery). However, the boxes at each side of the auditorium, next to the stage, were removed in 1931. The stage has been blocked off, and the cinema screen is placed within the proscenium arch. The projection equipment is housed in the former dress circle bar.
In 1931, the cinema became part of Gaumont British Cinemas, and it was at this time that the theatre boxes were removed. In 1950, it was renamed the Gaumont and the upper tier was closed for seating, and capacity was therefore reduced to 196 in the dress circle and 319 in the stalls, a total of 515.
In 1972, the Rank Organisation (which had taken over Gaumont) proposed to demolish the building but a local campaign based upon its architectural merit and its interesting history secured its survival and, indeed, refurbishment. In 1977 it was sold by the Rank Organisation to an independent cinema operator, and its name reverted to the original Coronet, instead of Gaumont. The new owners replaced the seating in the stalls so as to provide more legroom, reducing total cinema capacity to 399 seats.
In 1989, the building was again under threat, but it was protected by a Grade II listing and the threat passed. In 1996, a second screen with seating for 151 was opened in the stage area.
In 2004, it was acquired by its present owners, the Kensington Temple, a large local pentecostal church congregation. However, it continues to offer mainstream independent cinema programming, without any censorship or Christian slant. It was, for example, the cinema at which David Cameron was reported in the press to have watched Brokeback Mountain on its opening night.
The Coronet has also featured as a cinema location in its own right, notably in the film Notting Hill.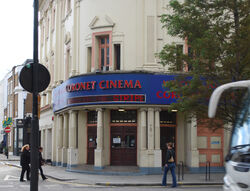 See Coronet Theatre, London for the building's present incarnation.
Community content is available under
CC-BY-SA
unless otherwise noted.