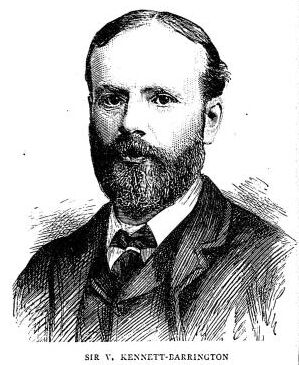 Sir Vincent Hunter Kennett-Barrington (known as Barrington until 1884) (3 September 1844 – 13 July 1903) was a barrister, businessman, humanitarian and politician.
He was born in Italy and was the eldest son of Vincent Frederick Kennett, a retired East India Company captain and his wife Arabella Henrietta née Barrington. His mother was co-heir of Sir Jonah Barrington, and he assumed her additional surname on her death in 1884.
Educated at Eton and Cambridge, and was called to the bar in 1872. He was involved in the British League of the Order of the Hospital of St John of Jerusalem (parent organisation of St John's Ambulance) and of the National Aid Society which became the Red Cross. He performed humanitarian work in France during the Franco-Prussian War of 1870-71. He subsequently performed similar work during the Carlist War in Spain (1873–75), the Serbo-Turkish War (1876–77), and the Turko-Russian War (1877–78).
He returned to the the United Kingdom in 1878, marrying Alicia Georgette Sandeman of the wine-making family. His extensive business interests led to him being appointed to commissions of the Brussels, Melbourne and Paris Universal Exhibitions. In 1883 he was elected to the London Chamber of Commerce & Industry, becoming its deputy chairman in 1889.
He resumed his humanitarian work during the the Sudan expedition and the Serbo-Bulgarian War of 1885. He was knighted in 1886.
He also took a role in local government as a member of the Metropolitan Asylums Board from 1883 and as a Progressive Party alderman on the London County Council from 1890-92.
He died at his Knightsbridge home from injuries received in a ballooning accident.
He published a number of books including:
River Pollution (1883)
Hospital and Ambulance Organisation of the Metropolitan Asylums Board (1893)
Floating Hospitals for Infectious Cases (1883)
Ambulance Organisation of the Metropolis during Epidemics (1884).
'First aid to the battlefront: life and letters of Sir Vincent Kennett-Barrington (1844–1903)' can be found here
Entry in Oxford Dictionary of National Biography [1]. Wikidata page here